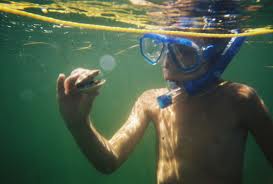 Scalloping Crystal River
Crystal River is a terrific vacation destination year-round. Known mostly for its's manatee population, it is also a terrific place for scalloping in Florida.  Scalloping Crystal River is a fun relaxing way to spend time on the water.  It is a great family activity, old and young alike can participate.  Spend your warm summer days in the cool waters. Dive into the clear waters catch the excitement as you reap the treasures of the sea.
Check availability of scalloping charters
A network of more than thirty springs fashion the beautiful waterway known as the Crystal River, a waterway that travels west for about six miles before emptying into the Gulf of Mexico.  It is in Citrus County, less than 70 miles north of Tampa, and it is often referred to as the "gem of the nature coast"
The same waterway that hosts a year-round manatee population of about 35-40 besides the 400 or more manatees that visit in the winter, empties into the Gulf, and forms a great natural habitat for scallops.
The town of Crystal River offers scallopers exceptional hotel accommodations, licensed scalloping guides, and dive shops to provide all your scalloping gear.  It also has great shopping, hiking, bicycling, bird watching, and more.
If you are bringing your own boat to go scalloping, check out the Crystal River boat ramps.
Bird's Underwater Dive Shop's or West Marine experienced staff can help you with all your snorkeling equipment.
And don't forget to stop by All About Nature in the Crystal River Mall for unique gifts.
Crystal River's restaurants range from kid-friendly family restaurants and diners to fine dining establishments offering French and Italian cuisine. Listen to great music at some of Crystal River's bars and pubs.
Crystal River offer's a truly memorable scalloping vacation