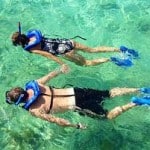 Let's go scalloping!!!!
Part snorkeling, part treasure dive, and part fishing it can be enjoyed by family members of all ages. Scallop hunting is the underwater adventure of a lifetime.
Florida scalloping is a great way to enjoy a day on the water during the hot summer. Spend quality time with family and friends and have an experience your family will never forget.
Come take part in what is called the "Giant Underwater Easter Egg Hunt".
Spend some time with us.. We have great tried to gather great information for you! You can
Get the latest news and advice, and learn how to cook your scallops.
Florida has some of the best recreational scalloping in the world. During scallop season in Florida, boaters and swimmers flock to places like Port St. Joe, Keaton Beach, Steinhatchee, Crystal River and Homosassa. You can find charter captains, boat ramp information, places to stay, maps of the area, and maps to the boat ramps as well as marinas, dive shops, and additional resources in each area.
Our facebook page is a great place to share your pictures and your adventures. Talk with other scallopers. Tell your stories, ask any questions, look for advice or share any advice you may have.
Don't forget – We offer one of a kind t-shirts, so please visit our shop.
After your great day on the water, check out our scallop recipes and find great new ways to cook your treasures. All recipes have been tested and offer delicious alternatives for preparing bay scallops.
If you have any ideas or suggestions for the site, please contact us as we welcome any ideas to improve the site to make it more useful for fellow scallopers or soon to be fellow scallopers!
Grab your snorkel, mask, and fins and let's go scalloping!!!