Spinach and Scallop Salad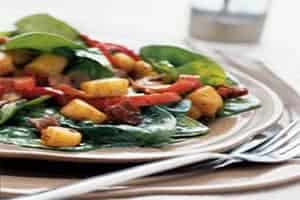 Ingredients:
6 bacon slices, coarsely chopped
1 pound bay scallops
1 (6-ounce) package baby spinach
1 medium tomato sliced
For dressing:
1 small shallot, thinly sliced
2 large garlic cloves, thinly sliced
1 small red bell pepper, sliced
1/2 teaspoon chopped fresh dill
1/2 teaspoon chopped fresh thyme or oregano
1/2 teaspoon ground cumin
1/4 cup red wine vinegar
1/4 cup extra-virgin olive oil
1/2 teaspoon salt
1/2 teaspoon freshly ground black pepper
Preparation
Cook bacon in a large skillet until crisp; remove and drain on paper towels, reserving drippings in skillet.  Drain oil from skillet, reserving 1 teaspoon.
Heat 1 teaspoon reserved oil over medium-high heat. Cook scallops in batches 3 to 4 minutes. Remove scallops from skillet; set aside.
Add shallot, garlic, red bell pepper and next 7 ingredients. Stir, loosening brown bits from bottom of skillet. Cook about 5 minutes or until vegetables are tender. Add bacon and scallops; cook until heated through.
Place spinach in a large salad bowl, and toss with scallops and warm dressing. Top with fresh sliced tomatoes. Serve immediately.