Spicy Scallop Salad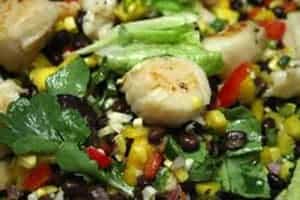 2 (15 ounce) cans black beans , drained and rinsed
2 medium mangoes , peeled and diced
½ medium red onion , minced
4 green onions , thinly sliced
4 garlic cloves , minced
1 ½ cups corn
1 lb bay scallops
salt and pepper
2 tablespoons butter
One bag of spring mix salad ( or coarsely chopped romaine lettuce)
Citrus Lime Vinaigrette
6 tablespoons extra virgin olive oil
6 tablespoons red wine vinegar
4 tablespoons lime juice , freshly squeezed
1 -2 jalapeno pepper , coarsely chopped (remove ribs for less heat)
2 garlic cloves , halved
1 teaspoon Dijon mustard
1 teaspoon honey
fresh ground black pepper
1 pinch ground cumin
1 pinch sea salt
3 tablespoons cilantro , fresh, minced
Directions:
Make vinaigrette – Put olive oil, red wine vinegar, lime juice, jalapeno peppers, garlic, Dijon mustard, honey, black pepper, cumin, and sea salt into a blender, puree until smooth. Stir in cilantro, taste and adjust seasoning as necessary. If not using right away, shake before serving.
Combine the black beans, mango, red onion, green onion, garlic, and corn. Toss with Cilantro-Lime Vinaigrette.
Pat the scallops dry and season with salt and pepper.
Melt the butter over medium-high heat in a nonstick pan. Add the scallops in batches to avoid overcrowding. Cook, flipping once, until just cooked through, about 1 to 2 minutes per side.
On a large shallow platter, place the greens or lettuce. Top with the bean mixture, then place scallops on top. Garnish with additional minced cilantro, if desired.