Scallops Ceviche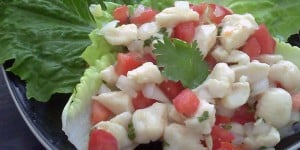 1 lb. fresh bay scallops
¾ cup freshly squeezed key lime juice
2 medium tomatoes, chopped
1/4 cup of chopped red onion
1/4 cup coarsely chopped fresh cilantro, plus sprigs, for garnish
1/4 cup extra-virgin olive oil
1 tablespoon rice vinegar
1/4 teaspoon oregano
Salt and freshly ground black pepper
Lime wedges, for garnish
Steps
1. Combine the scallops in a bowl with the lime juice, mix together, cover and refrigerate for about 6 hours.
2. Drain the liquid from the scallops.
3.Add the tomatoes, red onion, chopped cilantro, oregano, olive oil and vinegar to the scallop mixture. Season with salt and pepper. Mix well. The dish can be made up to this point up to 6 hours before serving. Garnish with the lime wedges and cilantro sprigs just before serving.