Scallop Ceviche with Mango and Orange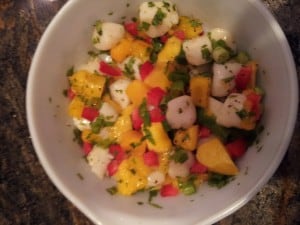 Ingredients:
1 pound scallops
¼ cup lemon juice
¼ cup lime juice
¼ cup orange juice
2 tbls cilantro
2 scallions chopped
1 ½ tbls fresh mint
½ cup chopped fresh mango
½ cup orange segments
1 tbls finely chopped red pepper
Put the scallops in a bowl and cover with the lemon, lime and orange juice.  Marinate in the refrigerator for at least 6 hours (or overnight) and stir occasionally.  Scallops will be white and opaque when done. Drain juice.  Add the rest of the ingredients, stir and serve.