Scallop Ceviche Appetizer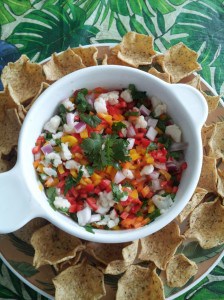 Ingredients:
1 lb scallops – chopped
½ cup each of chopped Red, Yellow and Orange sweet peppers
2 tomatoes, chopped
½ cup chopped red onion
¼ cup chopped white onion
1 small jalapeno pepper chopped
3 tbls   chopped fresh cilantro
1/4 to 1/2 cup Lime juice
Mix all chopped ingredients and cover with lime juice.  Marinate for 2 hours or until the scallops are white and opaque.  Serve with crackers or tortilla chips with and optional dash of hot sauce.