Scallops with Corn and Pancetta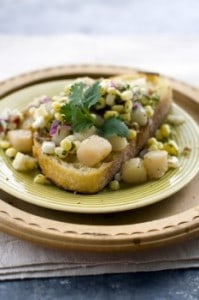 4 ounces chopped pancetta
1 small red onion, diced
1/2 tablespoon jarred jalapeno slices, minced
Juice of 1 lemon
1/4 cup chopped fresh cilantro
3 ears fresh corn, husks removed
Salt and ground black pepper
2 pounds bay scallops, patted dry
Remove corn kernels from cobs. (To do this, stand each ear on its wide end, then saw down length of cob with serrated knife.) Stir in onion, jalapeno, lemon juice and cilantro. Season with salt and pepper, then set aside.
In large skillet over medium-high, saute pancetta until lightly browned, about 6 to 8 minutes. Use slotted spoon to transfer pancetta to the corn salsa.
Return skillet with pancetta drippings to medium-high heat. When the pan is hot, add scallops and saute for 3 to 4 minutes, or until cooked through. Season scallops with salt and pepper, then serve with some of corn salsa spooned over them.