Bay Scallops Coquilles Saint-Jacques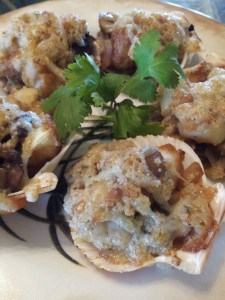 Ingredients
• 1/2 pounds bay scallops
•1/8 cup all-purpose flour
•1/4 teaspoon salt
•1/4 teaspoon curry powder
•dash cayenne pepper
•2 tablespoons butter
•4 ounces fresh mushrooms, cleaned and sliced
•1/2 cup chopped onion
•1/3 cup dry white wine
•1 tablespoons Cognac or Brandy
•3 tablespoons bread crumbs
•2 tablespoons butter, melted
•1/3 cup grated Gruyere cheese
•1 tablespoon fresh lemon juice (optional)
This dish can be made either as an appetizer in scallop shells or as a casserole in a over proof dish.  If making as a casserole, double the recipe
Preparation:
Mix the flour, salt, curry powder, and cayenne pepper together in a large bowl. Add the scallops to the bowl and toss the mixture together until the scallops are completely coated in the spiced flour mixture.
Melt the butter in a large skillet over medium-high heat. Add the scallops to the butter and sauté them, turning once, until they are golden brown on both sides, about 2 minutes; transfer the scallops to a plate and cover to keep warm.
Add the mushrooms and onions to the skillet and sauté, stirring frequently, over medium-high heat for 4 minutes, until they start to turn light brown. Add the white wine to the pan and scrape the bottom of the pan with a metal spatula to get all the brown bits off the pan and into the sauce. Reduce the heat slightly and simmer until the sauce has reduced by half. Remove the pan from the heat and stir in the Cognac and scallops.
Preheat the oven broiler. Divide the scallop and sauce mixture between scallop shells. Mix together the bread crumbs, melted butter, and Gruyere cheese; divide and spoon the mixture evenly over each scallop shell. Place the filled shells about 5-6 inches from the broiler and cook until the scallop mixture is hot, bubbly, and browned on top. Sprinkle with lemon juice and serve immediately.