Bay Scallop Tacos with Orange Cream and Spicy Slaw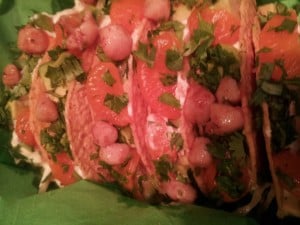 Ingredients
1/3 cup of sour cream
2 tablespoons fresh squeezed orange juice
1 teaspoon grated orange peel (zest)
— Kosher salt and ground black pepper, to taste
3 cups coleslaw mix
1/2 jalapeno pepper, seeded and minced
1/4 cup olive oil
1 tablespoon fresh lime juice + more to taste
1 lb bay scallops
1 teaspoon Paul Prudhomme's Blackened Redfish Magic
8 taco shells, warmed
— Diced avocado, for garnish
— Minced cilantro, for garnish
— Mandrian oranges, for garnish
Instructions: Whisk together the sour cream, orange juice and zest. Season to taste with salt and pepper; set aside.
To make the slaw, toss the coleslaw mix  with the jalapeno pepper, 2 tablespoons of the olive oil and the lime juice. Season to taste with salt and plenty of pepper, adding more lime juice if desired.
Saute the scallops in the remaining oil, and season well with salt, pepper and the Blackened Redfish Magic.
To assemble, fill each taco with a scoop of the slaw mixture, then add some scallops. Drizzle with sour cream mix, and top with cilantro, diced avacado and 2 -3 mandrian oranges.