Bay Scallop Chowder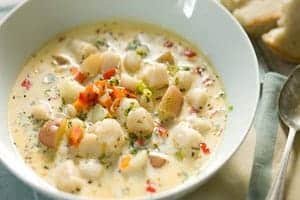 Ingredients:
5 sliced bacon cooked ( reserve bacon grease)
1 onion, chopped
1/2 cup chopped carrots
1/2 cup chopped celery
1 small red bell pepper, chopped
1 cup unpeeled red potatoes, chopped fine
1/4 teaspoon dried oregano
2 (8-ounce) bottles clam juice
1 tablespoon "Better Than Bouillon" chicken base
1 pound bay scallops
2 cups half-and-half
1/4 teaspoon salt
1/4 teaspoon coarsely ground black pepper
1/2 cup chopped fresh parsley
Instructions
1. Cook bacon. Remove bacon from pan and chop into small pieces, set aside. Reserve 2 tablespoons bacon grease.
2.Add bacon grease to large sauce pan and heat on med high. Add onion and next 5 ingredients (onion through oregano). Sauté 10 minutes. Add clam juice, chicken base, chopped bacon and scallops. Cook 5 minutes.
3. Add half-and-half, salt and pepper; cook until thoroughly heated. Stir in parsley.