Scallop Charters Crystal River with Captain Kyle Messier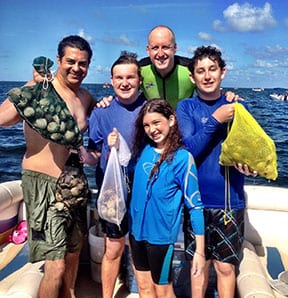 FLORIDA FISHING ADVENTURES SCALLOPING TRIPS
Scallop Charters Crystal River & Homosassa
Florida Fishing Adventures is a full-time local guide service that provides individuals, families and groups of all sizes with an abundance of unique outdoor experiences. For the past 10 years Florida Fishing Adventures has catered to the needs of families, small groups, and corporate gatherings to ensure great times on the local waters of the Crystal River and Homosassa. Our wide varieties of boats were purchased in mind to make sure that all customers are safe, satisfied and most of all comfortable during our fishing and scalloping adventures.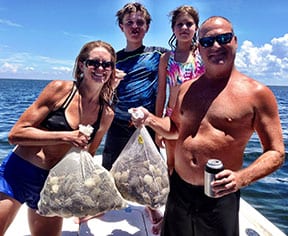 Depending on what you have in mind for a day of scalloping Florida Fishing Adventures provides a variety of trips that can accommodate any budget and game plan.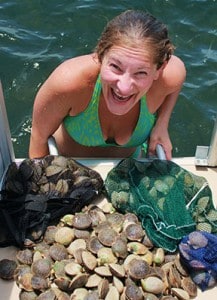 Plan 1:  Regular scallop trips includes back and forth transportation to the scalloping grounds, coolers w/ ice, and a discounted room rate at the Best Western Resort right on the Crystal River.  4 hour trip.  ( for 6 hour trips add $50)
up to 2 people          $300
up to 4 people          $350
up to 6 people          $400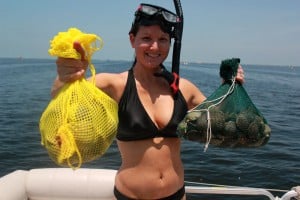 Plan 2:  VIP SCALLOP TRIP (Our Most Popular) These 7 hour trips are our featured trip for all of our scalloping guests.  We pick you up in a Customized Pontoon, Skiff or Deck boat full of waters, shade and even great tunes.  The short drive out to the scallop grounds provides all guests with a true Rest and Relaxation experience through the beautiful mangrove forests scattered throughout the Crystal River.  And to cap everything off at the end of the day once we are finished scalloping, I take you back into the 72 degree year round Three Sister Springs (World Famous Diving Destination) to cool off.  Life is Good
up to 2 people    $400
up to 4 people    $450
up to 6 people    $500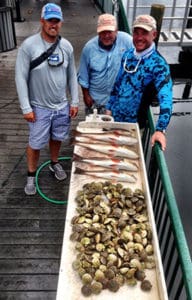 Plan 3:  1/2 Day Fishing, 1/2 Day Scalloping.  Another fan favorite, this trip is exactly as advertised.  We chase Redfish, Speckled Trout, Black Drum, Sheephead, Snapper and Grouper before splashing into the Gulf for a few scallops to add for dinner.
2 anglers  $450
3 anglers  $500
4 anglers  $550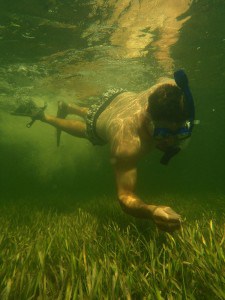 Please be advised that all Scallopers will be responsible for their:  
Mask, Fin and Snorkel Rentals: $7 from the Crystal Lodge Dive Shop or up to $20 from the Plantation Inn Dive Shop.
  Scallop Cleaning @ the Best Western $20 per 5 gallon bucket.  $30 per 5 gallon bucket at Plantation.  
All trips leave from the docks of the Best Western Resort in Crystal River.  As a guest of Florida Fishing Adventures all scallopers and anglers are eligible for our 20% off discounted room rate through the Best Western.  
Our guests also have the option of a 15% room discount at The Plantation Inn Golf Resort for those that are interested in other accommodations.  If you are interested in booking a Scalloping Adventure with Florida Fishing Adventures please feel free to call 352-634-4002 or email at any time.
Back to scalloping charters