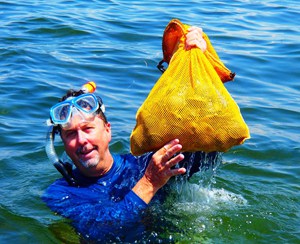 I'm Captain Mark Zorn, also known as Captain "Z". I'm an 8th generation native Floridian and have lived and fished in Citrus County for the past 30 years. In addition to fishing charters, I also offer Scalloping trips during season, out of both Homosassa and Crystal River.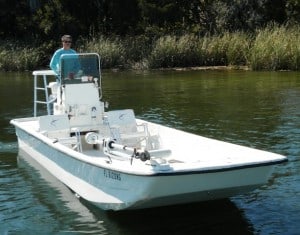 My boat is a 24-foot Carolina Skiff. It has an open hull design, moveable fishing chairs, and comfortably accommodates up to 6 people for a day of scalloping. There is a fold-down ladder on the back of the boat for easy access in and out of the water. Additional boats guided by professional and experienced captains can also be arranged if needed for larger family outings and corporate groups
With the scallops being so abundant the past couple of years, we are looking forward to another great season this year. Crystal River and Homosassa offer some of the best fishing and scalloping along Florida's Nature Coast. The average scalloping excursion is 4-6 hours, depending on the number of people in the group and the abundance of scallops.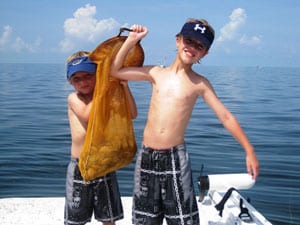 SCALLOP LIMITS: Whole Scallops: 2 gallons per day per person, or 10 gallons total per boat Cleaned Scallops: If you decide to clean your scallops while out on the water, the limit is 1 pint of scallop meat per person per day, or 1/2 gallon total per boat
LICENSE REQUIREMENTS: You must have a saltwater fishing license to catch scallops. Just one license per boat won't do; everyone on board needs to have one. This is one reason why it is a good idea to hire an experienced and knowledgeable guide to take you scalloping. Not only can I take you to where the scallops can be found, all the necessary licenses are provided too !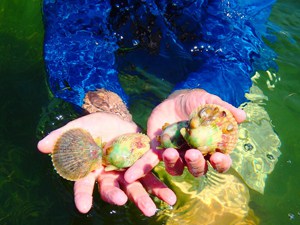 FINDING SCALLOPS: The only trick to catching scallops is finding them. They are usually found hiding in or around bladed sea grass. Because of the coloration of the shells, they blend in easy in the surrounding area. If you're inexperienced, or if it's your first time scalloping, don't worry. I'll be right there in the water with you providing instructions on how locate and gather your scallops.
RATES: * 1-4 People $250.00 (average 4-6 hours) * Add $50 for each additional person up to a maximum of 6 people per boat.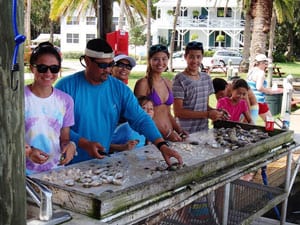 INCLUDES: All required licenses, ice, and scalloping equipment ( snorkel, mask, fins and mesh bag). Also includes one on one help/instructions on cleaning scallops at end of day. Or, let the locals clean your scallops for you. They're fast and charge a very reasonable rate.