Captain Colin Guy Scalloping Crystal River
Scalloping Scallywags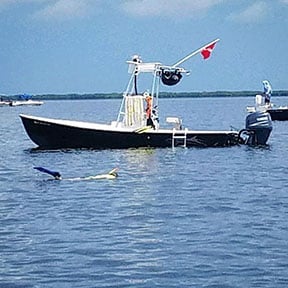 Hello my name is Colin Guy, the owner and operator of Majestic Manatee tours, also known as Scalloping Scallywags! During scallop season, we offer both 4 and 6 hour scalloping adventures out of Crystal River, Florida.
We have the boats, snorkel gear, and captains to make it all happen for your and your party! As a full-time scallop guide during season, my knowledge of the waterways and scallop grounds is endless. Scalloping is a blast and a family getaway for everyone. Our trips depart from our private dock and facility at 8 a.m., where we get you geared up and go over a short safety briefing. Then we board one of two boats, a custom 21 ft Sabalo bay boat, or a custom 22 ft tri-hull pontoon. The ride out to the scallop grounds is scenic and if you're lucky, you might spot a pod of bottle-nose dolphin at play! Once we get to the scallop grounds, you gear up and hop in to collect your awaiting treasure! Scalloping is like an underwater Easter egg hunt, and can be addicting once you get the hang of it.
The limit is 2 gallons of scallops per person, with a 10 gallon boat limit. A limit of scallops makes for a nice meal for all your hard work.
Trip options
4 hour trip- $300 up to 2 people, $350 up to 4 people, $400 up to 6 people
6 hour trip- $350 up to 2 people, $400 up to 4 people, $450 up to 6 people
8 hour trip- $600 for up to 6 people, this trip is a fan favorite, and includes a full day of scalloping fun, followed by a swim through one of our freshwater springs as your captain cleans your scallops.
NOTE: Scallops will be cleaned for you ONLY on the 8 hour trip, other trips we show you how to clean them, and let you have at it.
Reserve your trip now!
352-634-2901
Captain Colin Guy
352-634-2901
Call Now
Text Now
More information Captain Colin
Email Capt Colin