Scallops with Ginger Orzo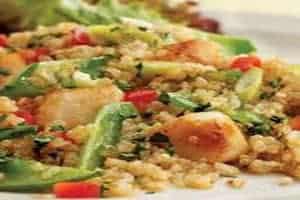 Ingredients:
1/2 cup red bell pepper, finely chopped
1/4 cup green onions, finely chopped
1/2 cup sugar snap peas, finely chopped
2 tablespoons fresh cilantro, finely chopped
12 oz bay scallops
1 tablespoon chopped pickled ginger
1/4 teaspoon kosher salt
1/8 teaspoon pepper
3 1/2 cups water
1 cup orzo pasta
3/4 cup Asian ginger vinaigrette ( pre-made salad dressing in supermarket)
1 tablespoon toasted sesame seeds
Prep
Chop pepper, onions, peas, pickled ginger, and cilantro.
Season scallops with salt and pepper.
Steps
Cook orzo according to package directions.
Preheat large nonstick sauté pan on medium-high.
Stir in peppers, onions, peas, and scallops;  cook 2 minutes or just until scallops are opaque (veggies will be crisp-tender). Stir in cooked orzo, cilantro, chopped ginger, and vinaigrette, heat until warm. Remove from heat; top with sesame seeds and serve.