What's just as fun as scalloping?…
It's eating scallops.  Whether sauteed in butter or breaded and deep fried, scallops are one of the best seafoods around.
Try some of these delicious bay scallop recipes for you catch.  Each recipe has been tested and has earned a place in our favorites.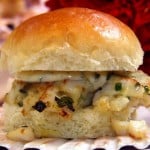 Recipe for Scallop Sliders
Scallop sliders served on a toasted bun with Cliantro-Lime Mayo

Recipe for Pasta Primavera with Bay Scallops
Bay scallops and pasta tossed with fresh vegetables in a parmesan cream sauce.  Topped with toasted pine nuts and fresh basil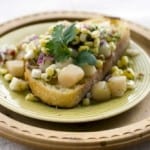 Recipe for Bay Scallops with Corn and Pancetta Salsa
Bay scallops with fresh corn, pancetta, and red onions.  Can be served over toast or rice or delicious just on its own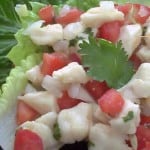 Recipe for Scallops Ceviche
Fresh scallops marinated in lime juice, then mixed with fresh tomatoes, red onion, and cilantro
Recipe for Scallops with Ginger Orzo 
Scallops with orzo, sugar snap peas, red pepper, green onions and cilantro.  Served mixed with a Asian ginger vinaigrette
Recipe for Spicy Scallop Salad
Sauteed bay scallops over black beans, corn, mangos and red onion with a spicy marinade.  Served over a field of greens.
Recipe for Bay Scallop Chowder 
A light, creamy chowder that showcases the mild flavor of scallops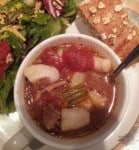 Recipe for Scallop Chowder – Manhattan Style
A rich, flavorful, tomato based scallop chowder



Recipe for Spinach and Scallop Salad
Spinach, scallops, and tomato served with a warm bacon dressing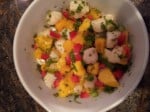 Recipe for Scallops Ceviche with Mango and Orange
Refreshing mango and orange added to scallops that have been marinated in lemon, lime, and orange juice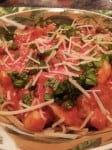 Bay scallops with Spaghetti and Vodka Sauce 
Bay scallops sauteed with mushrooms and onions with a vodka sauce served over spaghetti

Scallop Ceviche Appitizer
Scallops, sweet peppers, onion and cilantro "cooked" in lime juice and served on crackers or tortilla chips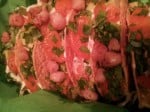 Scallop Tacos with Orange Cream and Spicy Slaw
Sauteed bay scallops served in a taco shell with spicy slaw, orange cream, diced avocados, cilantro and mandarin oranges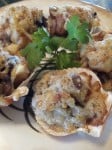 Bay Scallops Coquilles Saint-Jacques
Bay scallops, mushrooms and onion, sauteed with butter and seasonings, topped with breadcrumbs and Gruyere cheese.
Can be served as an appetizer or as a casserole – Recipe contributed by Mrs. D